Winners have been announced for the Aylsham Show 2023 Farm Business Competition.
The awards which are now in their 42nd year are open to farms of all types and sizes. Prizes are awarded in several classes, with one champion title overall
Judges assessed the farm's on cropping, livestock husbandry and their use of available resources, and also included a diversification category.
The overall champion, and Winner of the Barclays Bank Challenge Cup and Class A Challenge Cup is Raynham Farm, who also won the Best Farm Manager Category for farm manager, Tom Pearson. Tom commented "this is very much a team effort and it would not have been possible without the dedication and commitment of the farm staff, the office staff and support from the Townshend/Raynham family"
Rob Norman, Coordinator of the Farm Business Awards commented "The quality of entries over the 14 farms entered into the farm class and 6 entries into the diversification class was exceptionally strong. Congratulations to Raynham Farms on winning the champion farm and our thanks go to the six judges and also our principal sponsor Brown&Co.
Other categories included: Reserve Champion and Winner Class B Challenge Cup winner was awarded to WM.Youngs & Son (Farms) and the Diversification class winner was won North Walsham based, Dilham Hall Retreats
George Youngs commented "We were very suprised but absolutely thrilled to have come where we did in class B of the farm competition. It's brilliant for us to be able to show the judges around and get their opinion on some of the techniques and projects we are doing. Obviously Tom and I couldn't do what we do with out the great team around us so thanks to Tony Ian and Emily. As well a thanks to our uncles/ fathers respectively for letting us have a go and providing guidance.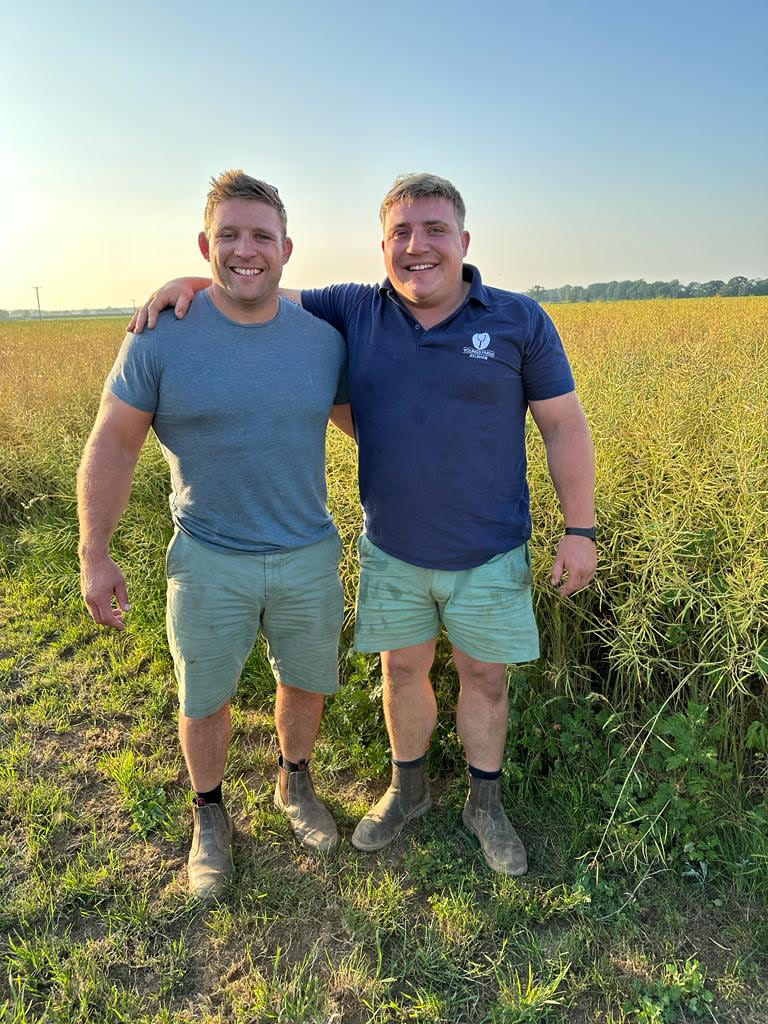 Henry Harrison, Agricultural Business Consultant at Brown&Co, Farm Business Competition sponsors, added "We are delighted to continue our support of the Aylsham Show Farm Business Competition. This is an excellent event which showcases just a few of the many excellent farm businesses within our region.
"I understand the standard of this year's competition was exceptionally high and we at Brown&Co would like to offer our congratulations to everyone who took part but particularly the overall Farming Class champion Raynham and Diversification Class winner Dilham Hall farms."
Congratulations to Nigel Joice of Uphouse Farm in South Raynham, near Fakenham. Winner of our Innovative Farming Award and to Tony Nicholson of machinery dealer Nicholsons – Stalham Engineering Co who won the won the prize fo for Services to Norfolk Agriculture.
42ND NORFOLK COUNTY FARMS BUSINESS COMPETITION WINNERS 2023
Champion and Winner Class A: Barclays Bank Challenge Cup and Class A Challenge Cup RAYNHAM FARM COMPANY LIMITED
Reserve Champion and Winner Class B: Class B Challenge Cup WM.YOUNGS & SON (FARMS) LIMITED
Runner-Up Class A: L F PAPWORTH LTD
Runner-Up Class B: H B S FARMS (1995) LIMITED
Small Farms (Under 160 Hectares) Winner: Challenge Cup TONY BAMBRIDGE – PARK FARM BLICKLING
Diversification Class Winner: Stuart Chapman Bowl DILHAM HALL RETREATS
Diversification Class Runner-Up: HIRST'S FARM SHOP & CAFE
Best Livestock: Jubilee Cup J F TEMPLE & SON LIMITED
Best Farm Manager/Foreman:  Leonard Papworth Challenge Trophy TOM PEARSON  Raynham Farm (RFCL)       

Innovative Farming Award – Nigel Joice – Uphouse Farm (South Raynham)
Services to Norfolk Agriculture- Tony Nicholsons – Stalham Engineering Co
Farm Walk
Raynham Farm Company Limited were the overall Champion Farm and will host the Farm Walk, kindly sponsored by Frontier Agriculture Ltd and Payne Crop Nutrition Ltd, on Tuesday 4th July 2023 at Hall Farm, Toftrees, NR21 7EB.
Arrival from 6pm leaving the yard on trailers at 6.30pm and back at 8.30pm for hog roast, drinks and presentations.